Welcome Twitter followers, Facebook friends, and discerning blog readers.  Feliz Navidad from Punta Arenas, Chile.  Since our first post in Ushuaia, we've cycled nearly 500 kilometres, which has been one of the most physically demanding things we've ever done.  Over the past two weeks we've experienced the full range of emotions that bike touring brings, from the incredible highs of climbing passes, to the dreadful lows of cycling into a headwind.
We left you the night before departure in Ushuaia, and after an overly long breakfast the realisation hit that we couldn't sit in a hotel all day and had to face the inevitable.  We loaded up the bikes, filled up the fuel bottle, inflated the tyres and nervously wobbled out of Ushuaia on the footpath.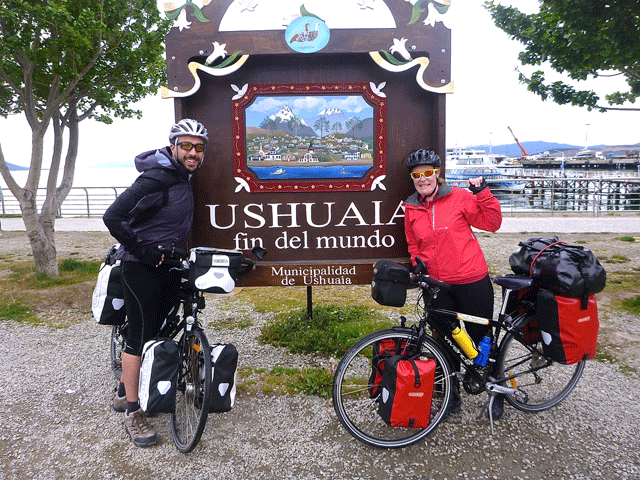 The footpath soon disappeared and we were thrown onto the wild Argentinian roads.  After a near miss with an Argentine rubbish truck and having no idea what we were doing, we thought we would be safer riding on the hard shoulder.
It was 15 slow kilometres riding on this awful surface before we met a French cyclist heading the other way who kindly informed us that it was perfectly safe on the road.  Safe in the knowledge that the trucks weren't out to get us, our pace quickened and we soon found ourselves pedalling through some beautiful scenery.
Tiring and seeing yet another hill to climb, it was time to call it a day and find somewhere our first wild camp.  This proved rather testing and after a number of attempts we managed to get off the road and set up in a damp forest for the night.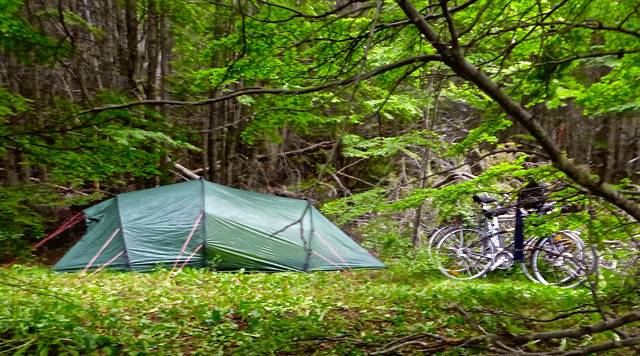 A restless night was spent under canvass and as we packed up the next day, Mel had what would turn out to be the first of many toilet incidents.  Having read about leaving no trace, the process should be: dig a hole, empty bowels, wipe, bury your mess and burn the toilet paper.  Unfortunately, Mel missed out on these instructions and managed to set fire not only to the toilet paper, but to her daily offerings as well.  I'm still unsure as to how she put it out…
We began that day with the climb we couldn't face the previous day.  Map reading isn't exactly one of our strong points, so little did we realise that we were actually climbing up over the Paso Garibaldi, a 2-hour slog with a break every 10 minutes.  We eventually made it to the top.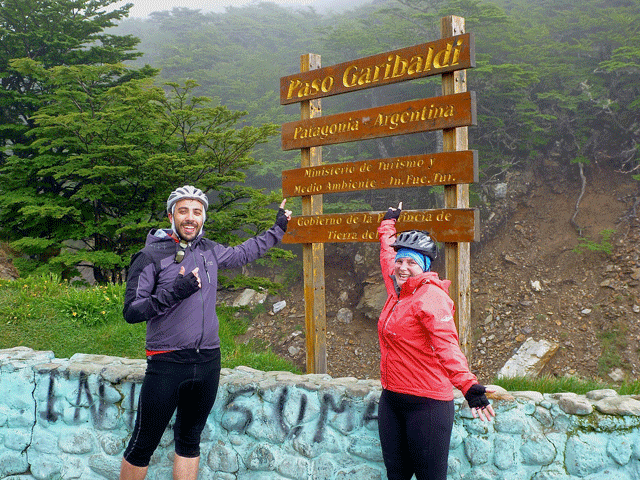 Having climbed our first "pass" we were feeling particularly pleased with ourselves and decided to push on to our first town, Tolhuin.  Big mistake.  The wind turned, the snacks ran out, and we were perilously low on water.  As we pushed the bikes up yet another hill, tears in Mel's eyes, we were seriously questioning what on earth we were doing.
Rolling into dusty Tolhuin, with its stray dogs and suspicious locals didn't make us feel any better, however we managed to locate the bakery, which according to other cyclists we could stay at.  Using my best language skills, I asked if there was somewhere to stay, thinking that two cyclists, helmets and all, would be welcomed with open arms.  In return, I received a flurry of rapid fire Spanish, of which I managed to understand little.  We limped down the road to the overpriced hotel and crashed out for a night.
Exhausted and full of self-doubt, we decided to stay an extra day to rest and repack our overloaded panniers.  Rested, and about 5 kilos of luggage lighter, we were ready to hit the road the next day until Mel started crying.  And crying.  And then crying some more.  She could not face the thought of another day like the last on the road.  It took all of my best convincing and cajoling to get her back on the bike, and we slowly made our way to Rio Grande.
What can you say about Rio Grande?  Bleak is about the best word for it.  Whilst we were thankful for the rest and a roof over our head, we were more than happy to hit the road again, heading towards the border post of San Sebastian and into Chile.
We made good time and in spite of inadvertently smuggling nectarines into Chile, which we devoured illegally inside Chilean territory, we crossed our first border and faced the worst roads of the trip so far.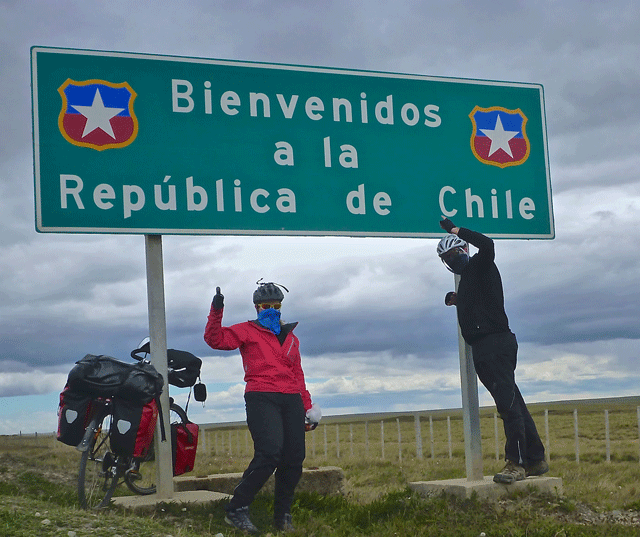 The smooth paved roads were now a thing of the past, as we bounced and juddered our way along the gravel roads for a tail wind assisted 85kms, the longest day so far.  As we went to set up our tent in a quarry that evening, we prayed that the wind wouldn't change direction.  Luck was not on our side.
We woke to find that the wind was no longer our friend.  What pushed us along previously now ferociously drove into our faces.  We attempted to ride like a 2 man peloton in the Tour De France, however, every time I turned my head, Mel was 10 metres back down the road.  Cue lots of shouting, more tears, and the resentment slowly building.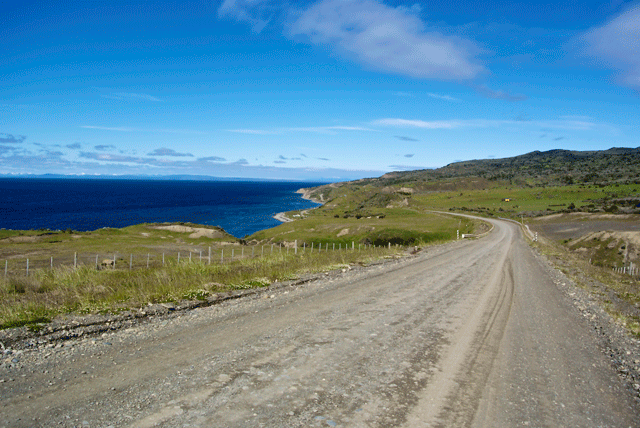 Now cycling in silence, we met an American cyclist who told us that the last ferry before Christmas was leaving in a few hours.  Having laid down the gauntlet of trying to cover 35kms in 4 hours, and not wanting to spend Mel's birthday in a fishing village, we fuelled up on plain white bread (having smashed the jam a few days previously, it was all we had), gulped down our water tainted with petrol and made it to Porvenir with an hour to spare, only to find that the ferry left 5 hours later!
Porvenir was full of a number of Dutch cyclists all heading in the same direction.  So having caught the ferry across the Strait of Magellan, we have spent the last few days together here in Punta Arenas visiting penguin colonies, eating things that aren't pasta, and drinking some well earned beers!  It's quite reaffirming to realise that we're not alone at attempting this crazy endeavour.
And that's it.  It's Christmas Day.  Mel has spent all day in bed.  I've written this for those living vicariously through us.  We have another day off tomorrow before we head to Puerto Natales.  Let's just hope the wind is on our side.
Chris – 25/12/12
PS. Christmas cheer deserted you?  Why not play our new fun game – Spot The Penguin.